The Resident Coordinator Office
The UN Resident Coordinator's Office (UNRCO) supports the Deputy Representative of the Secretary-General, UN Resident and Humanitarian Coordinator in her efforts to improve the impact, efficiency and effectiveness of the UN's joint operational activities for development in South Sudan, and to strategically position the United Nations Country Team (UNCT) in support of national priorities, development strategies, and plans.
The UNRCO in South Sudan provides inter-agency coordination support to the UN Country Team (UNCT) and its various sub-teams (Program Management Team - PMT, Operations Management Team – OMT, UN Communications Group – UNCG and the PSEA task force).
The support includes strategic planning, program and operations management, policy guidance, data management and results reporting as well as knowledge management, advocacy and communications, all seeking to enhance UN coherence and improve overall program impact to better achieve development results.
The UN Resident Coordinator in South Sudan:
Ms. Sara Beysolow Nyanti was on 6th December appointed as the Deputy Special Representative of the Secretary General, Resident Coordinator and Humanitarian Coordinator in South Sudan.  
She brings more than 20 years of experience in international development and humanitarian affairs including in conflict and post-conflict settings, most recently serving as Resident Coordinator in Nepal (2021).  She also served as the United Nations Children's Fund (UNICEF) Representative in Yemen (2019-2020) and in the Gambia (2015-2017).  Prior to her senior-level representational roles, she served in numerous technical capacities in UNICEF and the United Nations Development Programme (UNDP) related to setting up systems for large-scale grant management, social protection/cash transfers, HIV/AIDS, health and education.
Before joining the United Nations in Liberia where she worked during the conflict and transitional Government periods, Ms. Nyanti held senior positions in the Ministry of Health of the Government of Liberia (1999-2003).  She served as the Director of the National AIDS Control Programme and prior to that, she served as Special Assistant to the Minister of Health.
Ms. Nyanti holds a master's degree in public administration from the New Charter University, United States.  She most recently completed a second master's in management and leadership from Western Governors University, United States, and is an accredited broker with the United Kingdom-based international Partnership Broker Association managing and developing collaboration processes.  She is currently pursuing a doctoral degree in transformational leadership.
Meet the Team in the UN Resident Coordinator's Office in South Sudan
 George Otoo, Strategic Advisor and Head of UN Resident Coordinator's Office: george.otoo@un.org  
Alumai Godfrey, Monitoring and Evaluation Officer: godfrey.alumai@un.org
Abraham Gureech Mabior, Associate Coordination Officer/ Economist: Gureechmabior.Deng@un.org 
Florence Auma Apuri,  PSEA Coordinator: florence.auma@un.org  
Brenda Engola, Peacebuilding Fund Coordination Specialist: brenda.engola@un.org 
Judith Adania, Coordination Associate: Judith.adania@un.org
Poni Allen Ladu, Communications Officer: poni.allen@un.org
Marco Kirschbaum, Triple Nexus Advisor: marco.kirschbaum@un.org    
 Partnership Officer: vacant
Umer Farooq, Database Manager: umer.farooq@un.org  
William Deng Jnr, Liaison Officer: william.kwir@un.org 
Lokilling Mukaire, PBF finance and administration Associate: lokilling.mukaire@un.org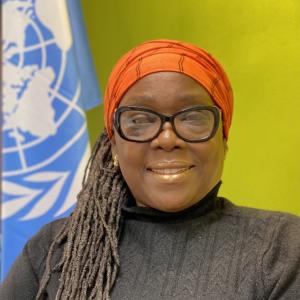 Sara Beysolow Nyanti
Deputy Special Representative of the Secretary General, Resident Coordinator and Humanitarian Coordinator