The Sustainable Development Goals in South Sudan
The Sustainable Development Goals are a global call to action to end poverty, protect the earth's environment and climate, and ensure that people everywhere can enjoy peace and prosperity. These are also the goals the UN is working for in South Sudan:
Publication
27 June 2022
South Sudan UN Common Country Analysis (CCA)
South Sudan faces serious challenges in all areas of sustainable development. In the political sphere, significant progress has been achieved since 2018 when the R-ARCSS was signed. However, there are very important tasks such as the graduation of unified forces that remain to be completed. The population remains highly exposed to repeated and deliberate attacks on civilians and their property, as well as other violations of international, humanitarian and human rights including sexual exploitation and abuse or more broadly conflict-related gender-based violence, among others. These happen with widespread impunity because institutions and the rule of law is extremely weak, which can easily create a vicious cycle leading to more violence. Linked to this, after many years of conflict and violence there is widespread trauma in a high share of the population, especially those most vulnerable. The precarious security situation creates incentives that preclude consumption (e.g. those who can afford often prefer to neighboring countries) and investment (e.g. in the agricultural sector: if someone's land can be grabbed any time, s/he will hardly invest in it). Food insecurity is very high despite the country's generally fertile soil, and over 8 million people (most of the country's population) are estimated in need of some sort of humanitarian assistance. Humanitarian needs are often linked to population movements, including new and secondary displacements derived from sub-national conflict, and floods that have increasingly affected South Sudan for several years in a row, e.g. in 2021 the worst flooding in decades has affected some 700,000 people, with the gravest impact on the most vulnerable populations. There are about 1.7 million internally displaced people (IDP) and 1.7 million IDP returnees, as well as over 2.3 million refugees and asylum seekers in neighboring countries. More than 387,000 refugees have spontaneously returned since the signing of the R-ARCSS in 2018. South Sudan also hosts some 329,000 refugees, the vast majority of whom are from Sudan. Social indicators, especially those on access to the most basic services such as healthcare, education, water and sanitation and social protection are amongst the worst in the world (even more so for vulnerable groups such as women and especially girls, the elderly, persons with disabilities, etc.). About three quarters of the population are estimated to live in extreme poverty.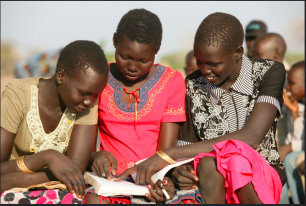 Story
13 January 2021
UN and humanitarian partners come together to respond to the devastating floods of 2020
Over a million people were affected by flooding in 2020 and entire communities, mostly in areas along the Nile, fled to higher ground to escape the flood waters. Close to half a million people were displaced, with women and children most affected. In August, the Government declared a state of emergency in flood-affected areas. People in Jonglei State and the Greater Pibor Administrative Area, were hardest hit by the flooding and were already vulnerable, having earlier been displaced by sub-national violence. Villages and people's homes were submerged by the flood waters, destroying people's crops and killing their livestock. Infrastructure and public facilities did not escape the waters. Hundreds of schools and health and nutrition centers were damaged, compromising essential services to communities. Key immediate needs of flood-affected people included food, water purification tablets, plastic sheeting for temporary shelter, mosquito nets, fishing kits, basic health items and the replenishment of medicine, nutritional supplies and dignity kits. Coordinated by OCHA, humanitarian response operations were scaled up from July onward to meet the needs of the most vulnerable people, with funding from the UN's Central Emergency Response Fund and the South Sudan Humanitarian Fund, among other sources. Using limited resources, people were provided with emergency flood response kits. Hundreds of thousands of people were reached with food assistance and livelihood support. Displaced people received plastic sheeting for temporary shelter, water, sanitation and hygiene support, and protection services. Humanitarian organizations on the ground – most of them South Sudanese – worked tirelessly as the needs rose along with the flood waters, but faced many challenges. Flood response activities were constrained by insecurity that forced some local partners to put the flood response on hold. Persistent heavy rains made roads impassable and flooded airstrips, putting an extra burden on transporting aid to where it was needed the most. The waters are now slowly receding, but people's needs still remain. The United Nations, non-governmental organizations and the local authorities continue to work together to help flood-affected people return to their homes and livelihoods as soon as possible. Further investments will be required in 2021 to strengthen people's capacity to cope with recurring shocks, including flooding.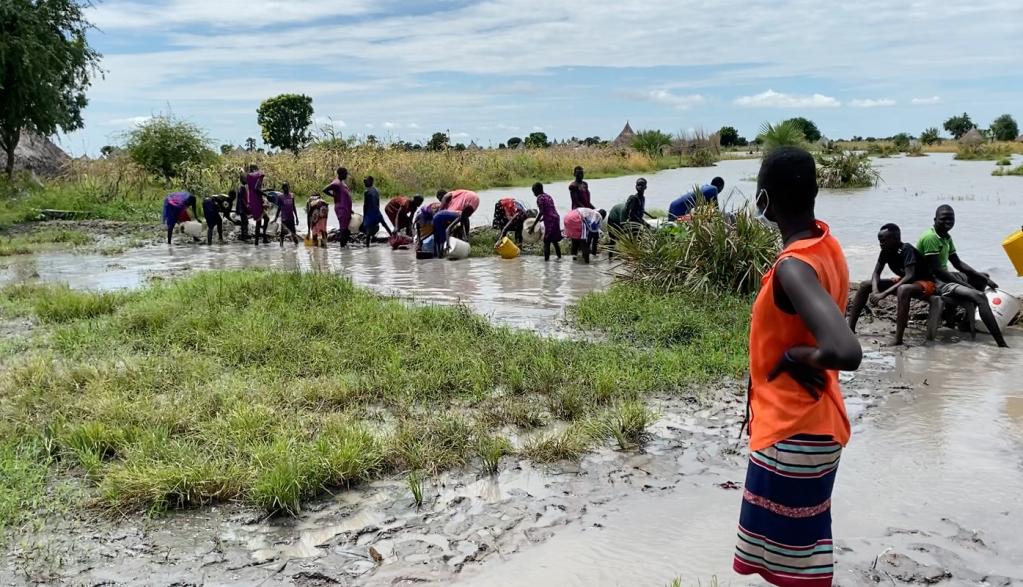 Story
22 December 2020
UN agencies' alarm at worsening hunger in South Sudan
Three United Nations organizations are calling for immediate humanitarian access to parts of South Sudan's Pibor County in Jonglei State, where people have run out of food and are facing catastrophic levels of hunger according to a new Integrated Food Security Phase Classification (IPC) report released today. The high levels of hunger are being driven by insecurity, the effects of COVID-19, the economic crisis, and the impact of flooding on livelihoods, the report said. Humanitarian assistance is needed to save lives and avert a total collapse of livelihoods in hard-to-reach areas. The Food and Agriculture Organization of the United Nations (FAO), the United Nations Children's Fund (UNICEF) and the World Food Programme (WFP) are scaling up their response, along with other humanitarian aid organizations. "We call on all parties to stop the violence and to ensure safe humanitarian access in order to prevent an already dire situation from turning into a full-blown catastrophe," FAO Representative in South Sudan Meshack Malo said. "We are extremely concerned about the increased numbers of children suffering from severe acute malnutrition. These children need urgent treatment to prevent them from dying. The data leave us with no doubt about the sense of urgency for all of us - Government, donor community and humanitarian actors - to join hands and ensure all these children get the treatment they need. At the same time, we need to invest more in actions to prevent children from becoming malnourished in the first place," UNICEF Representative in South Sudan Mohamed Ayoya said. "WFP is extremely worried about the rising numbers of people suffering because of the lack of sufficient food and nutrition, intensified conflict, unprecedented flooding and high food prices. The coming year will be extremely tough, but we are determined to do all we can to reach more people for longer periods of time," said Makena Walker, Deputy Country Director of the World Food Programme in South Sudan. Extreme hunger in parts of Pibor county Figures in today's report estimate that between October and November, 6.5 million people in South Sudan faced severe acute food insecurity and are in need of urgent assistance. This number is projected to grow to 7.24 million between April and July 2021. Today's report comes after two independent reports published by the IPC Global Support Unit last week which indicated that tens of thousands of people are likely to face famine conditions in Pibor county. In this situation, many families are experiencing high levels of acute malnutrition and even mortality. In another five counties (Akobo, Aweil South, Tonj East, Tonj North and Tonj South), some communities are facing catastrophic conditions, the independent analysis found. Around 1.4 million children aged between 6 months and 5 years are expected to be acutely malnourished in 2021 and will need life-saving treatment, according to today's report. This includes 313 000 children suffering from severe acute malnutrition and more than a million children suffering from moderate acute malnutrition. At the same time, 483 000 pregnant or breastfeeding women are acutely malnourished and in need of treatment. Emergency response WFP has already begun scaling up its lifesaving food and nutritional assistance to critically food insecure areas in Pibor County as well as other areas of concern, extending its humanitarian response beyond the usual lean season and increasing the number of vulnerable people who need support. In the past two months, WFP has extended its food assistance to nearly 80,000 people in Pibor County. Meanwhile, in Akobo East more than 40,000 people are currently receiving food assistance. WFP will continue to scale up its emergency food response working with partners to build community resilience and development. In total, WFP has provided food assistance to five million people in need in South Sudan in 2020. UNICEF will further scale up its interventions supporting therapeutic treatment and stabilization centres in the most affected counties to protect and save children's lives. This year, UNICEF has already treated 170,000 children affected by severe acute malnutrition, with a 94 per cent recovery rate. Further expansion of services is now urgently needed - including to insecure areas - for the treatment of severe acute malnutrition. UNICEF will continue to address the underlying causes of malnutrition such as malaria and diarrheal diseases caused by a lack of clean water, sanitation and hygiene, and investing in prevention of malnutrition through promotion of breastfeeding and good feeding practices for the young child. FAO's priority is to assist farming and agro-pastoral communities to increase their production and preserve their livelihoods. So far in 2020, over 100 000 farming families have received support to grow their own food from seeds, and more than 5 million animals have been vaccinated and treated to assist 164 000 households. FAO has also distributed 800 tonnes of emergency animal feed for critical animal stocks, especially in flood-affected locations.