Press Release
The Deputy Representative of the Secretary General, Resident and Humanitarian Coordinator (DSRSG/RC/HC) in South Sudan strongly condemns the attack on a vehicle with polio supplies in Malek
17 February 2021
Juba, 17 February 2021 – The DSRSG/RC/HC strongly condemns the armed attack on a vehicle hired for the polio vaccination campaign and calls call for those responsible to be brought swiftly to justice.
The attack took place on Sunday 14 February in Malek in Lakes State. The vehicle was hired by the Lakes' State Ministry of Health and was traveling with a polio vaccination team and supplies from Rumbek Centre to Rumbek North. The attack carried out in Malek by unknown men, left three people dead, four wounded and one missing feared dead. The motive behind the attack remains unclear.
The vehicle was carrying Information, Education and Communication material to sensitize the population about polio vaccination, as well as polio vaccines and packs.  
"This violent attack is unacceptable. It compromises the ability of health workers to provide assistance to communities impacted by the ongoing polio outbreak," said Mr. Alain Noudéhou, DSRSG/RC/HC.  Our thoughts are with the people who have been affected by this attack and with the families of the victims.
UNICEF and the World Health Organisation are supporting the Ministry of Health in South Sudan to respond to a polio outbreak that started in September 2020 and has affected all the states in the country. The nation-wide vaccination campaign starting from Feb 16, is the second vaccination round since the outbreak started.
The campaign will cover all 10 states in South Sudan, except six counties in Western Equatoria (Yambio, Nzara, Tambula, Nagero, Mvolo, and Ezo) which was covered in the November and December 2020 rounds. All under-five children in the country are targeted in the campaign.
The UN in South Sudan reiterates their gratitude to the thousands of health workers involved in the polio vaccination campaigns.
For more information please contact: 
Poni Allen Ladu, Communication and advocacy Officer, Office of the Resident Coordinator  
Telephone: +211928066318, Email poni.allen@un.org  
The Deputy Representative of the Secretary General, Resident and Humanitarian Coordinator (DSRSG/RC/HC) in South Sudan strongly condemns the attack on a vehicle with polio supplies in Malek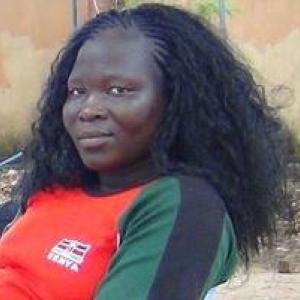 Poni Allen Ladu
RCO
Communication Officer
Poni Allen is the Communications Officer at the RCO
UN entities involved in this initiative
UNICEF
United Nations Children's Fund
WHO
World Health Organization