Story
World Food Day highlights urgent need to transform food systems amidst increasing numbers of hungry people in South Sudan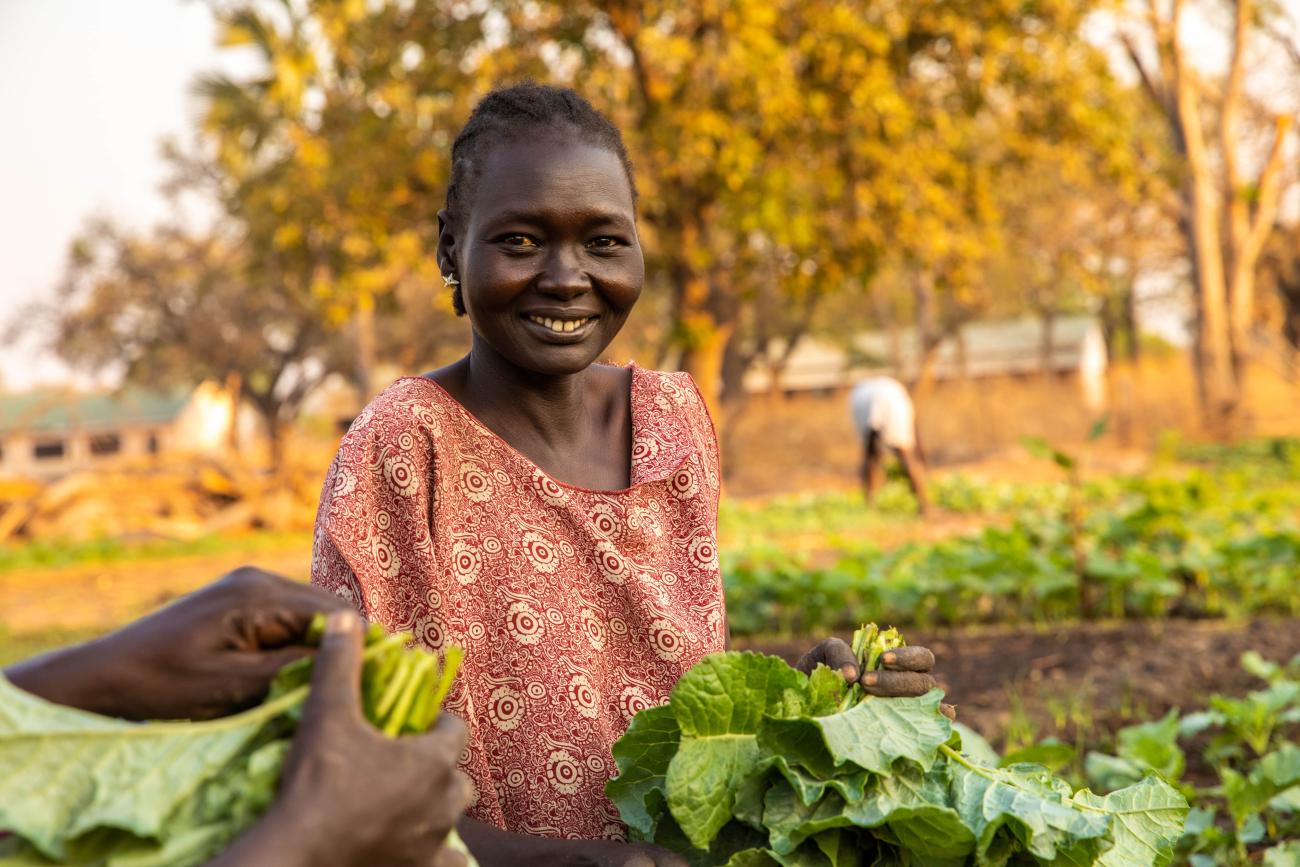 Today food insecurity in South Sudan is at its highest level since the country gained independence ten years ago.
This year's World Food Day finds the world at a critical moment. The COVID-19 pandemic remains a global challenge, causing untold losses and hardship. Widespread flooding has washed away home, and the impacts of climate change is endangering lives and livelihoods.
Today food insecurity in South Sudan is at its highest level since the country gained independence ten years ago. Sixty percent of the population faces severe and acute food insecurity, with families unable to feed themselves because of the combined effects of conflict, displacement, massive flooding and economic hardships, made worse by the pandemic.
The Food and Agriculture Organization of the United Nations (FAO), and partners are committed to confront these problems. The UN Food Systems Summit mapped out the broad outline of how the world needs to move forward to transform agri-food systems. We at FAO have already rolled up our sleeves and got down to the practical tasks of leading the implementation and driving the transformation.
In the past few months, South Sudan has undertaken a major assessment of its food system within the framework of the National Food Systems dialogue; the findings will feed into future food systems policies, legislation and investments in the country.
World Food Day 2021 was commemorated in Malakal this year under the theme 'Better production, better nutrition, a better environment and a better life'. From one of the areas of South Sudan most affected by conflict and the impact of the climate crises, the international community has called for collective action to ensure sufficient, nutritious, and safe food is available at an affordable price to every South Sudanese, and nobody is hungry or suffers from any form of malnutrition.
FAO continues to prioritize assisting communities to increase agricultural production and preserve their livelihoods in a way that fosters peaceful co-existence. FAO is supporting around 4 million people with emergency livelihood support, including vaccination and treatment of nearly 11 million head of livestock belonging to over 500 000 households. Additionally, FAO supported 99 000 people with capacity building activities, including training and the establishment of demonstration plots. However, due to insufficient funding this year, FAO was unable to support a further 460 000 food insecure households (2.7 million people).
The "agri-food system" covers the journey of food from farm to table – from when it is planted, grown, harvested, processed, packaged, transported, distributed, traded, bought, prepared, eaten and disposed of.
Everyone has a role to play in this process. Our approach can only be effective if it's rooted in working together with the government and key partners, as they forge their own national pathways towards transformation in line with their specific conditions and needs.
Scientists, bureaucrats, food producers and distributors will never be able to bring about all these desperately needed changes on their own. The transformation can and must start with pragmatic and concrete action by ordinary consumers and the choices we make.
The decisions we make every day on the food we choose to consume and the way we produce, prepare, cook and store it make us all an integral part to how an agri-food system works and have an impact on future of this planet. Consumers should chose locally-produced food whenever possible, and plan meals well in order to avoid food waste. All of us have the potential to be food heroes. Our actions are our future.
World Food Day, celebrated this year on 15 October, marks the anniversary of the founding of FAO on 16 October 1945. The main objective of the day is to heighten public awareness of long-term global food challenges, and to develop further national and international solidarity in the struggle against hunger, malnutrition and poverty.
UN entities involved in this initiative
FAO
Food and Agriculture Organization of the United Nations