Story
FAO goat and sheep distribution helps create peace between refugees and host community in Maban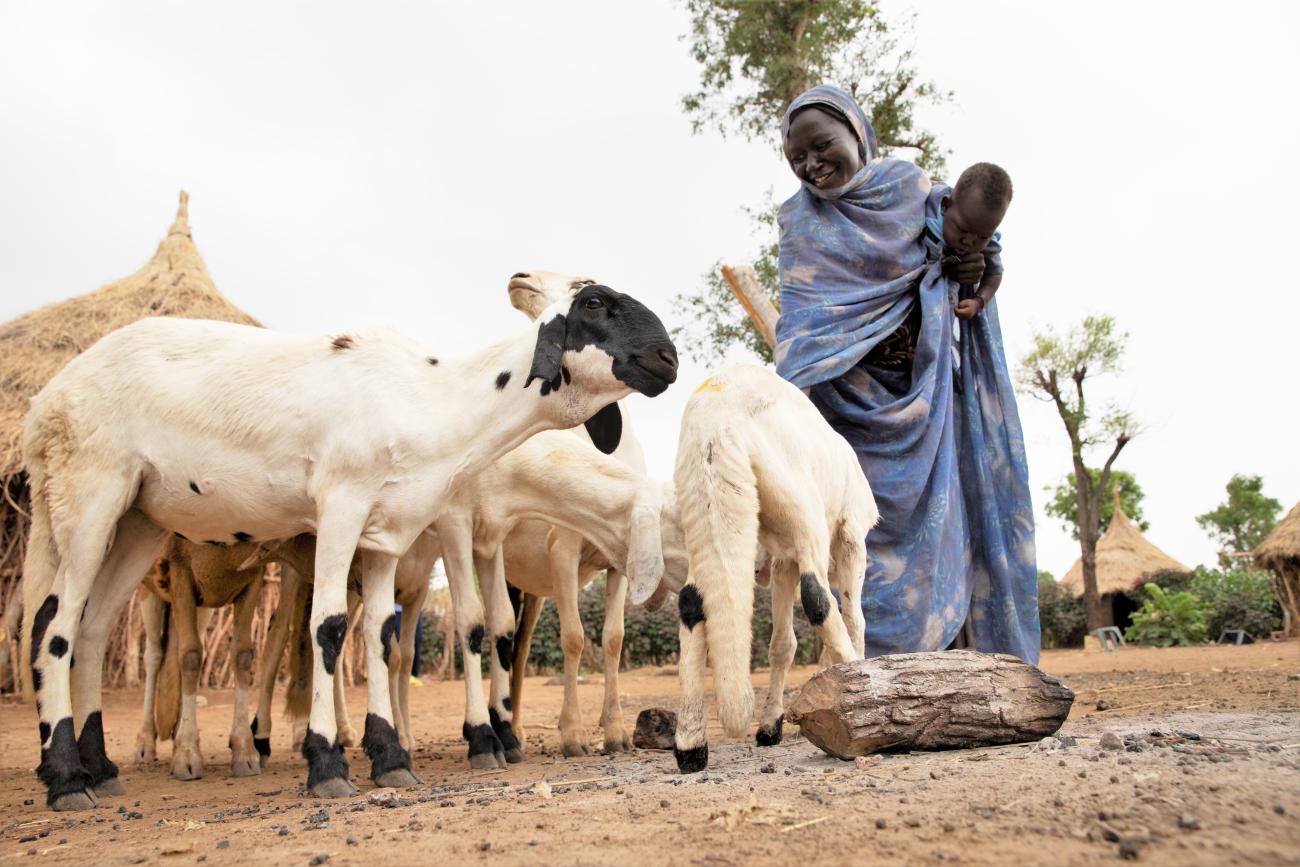 When refugees have access to livestock, it allows them to integrate into the local economy.
Cradling her small baby in one arm, Hijou Alia Memo bends over to pat one of her sheep with the other hand. Four other adult sheep and two lambs wander around the dusty area surrounding Alia's tukal.
These sheep are precious to Alia, who lives in the Kaya refugee camp in Maban county.
"Before I was suffering. I have many children who were living without food to eat and had no clothes to wear," says the mother of five.
Now, her children are benefiting from the extra nutrition provided by the sheep milk.
Alia was one of 300 refugees in Maban county who received five sheep or goats each in December 2021, through a Norway-funded restocking programme conducted by FAO.
The goal of the distribution is to help vulnerable people establish a livestock-based livelihood, or to re-establish their livestock business if they previously had animals but lost them due to displacement, raiding or disease.
FAO vaccinates and deworms the sheep and goats before distribution, and the beneficiaries are trained on the basics of livestock health and animal husbandry.
Small ruminants are the kind of livestock customarily owned by women in South Sudan. They are less likely to cause conflict or be raided, and they reproduce quickly.
But it's not only refugees who are benefiting from the FAO livestock restocking.
In Maban county, 400 beneficiaries in the host community also received sheep and goats. Among both the refugee and host community, the most vulnerable members of the community were selected to receive the small ruminants, including single mothers, widows, people with disabilities and senior citizens.
Hahoz Wardu, 85 years old, is one of the beneficiaries in the host community.
"The children in my family go to school, they are even dressed with clothes we bought because of the milk we sell in the market, and also the children are drinking the milk from the goats," he says.
Wardu says the small ruminants improve life for the family, so if a sheep or goat gets sick, he will prioritize buying medicine for the animal.
"When we see conflict around refugee settlements, it's often due to competition over limited resources," says Meshack Malo, the FAO Representative in South Sudan.
"By providing members of both the refugee community and host community with access to animals which can help build their livelihood, FAO is doing its part to promote peace in the region."
Furthermore, when refugees have access to livestock, it allows them to integrate into the local economy.
Alazira Alamen is a community leader in charge of security at the Gendrasa refugee camp. He says the distribution of sheep and goats to some community members is a sustainable way of helping refugees adapt to life away from home.
'"This is normal activity for all our people. We traditionally practice agriculture for income and also producing animals. The people have experience keeping livestock," says Alamen.
For her part, Alia is already looking forward to what she can accomplish with her flock of sheep.
Alia received five sheep in December, and already two of them have given birth, bringing the total number to seven.
"In the next three years my sheep will multiply themselves by giving birth," she says.
"I will always take care of them and with time, I can even sell sheep in the market and start buying cows from the profit I will make."
UN entities involved in this initiative
FAO
Food and Agriculture Organization of the United Nations