Story
South Sudan in the world of 8 Billion: Towards a Resilient future for all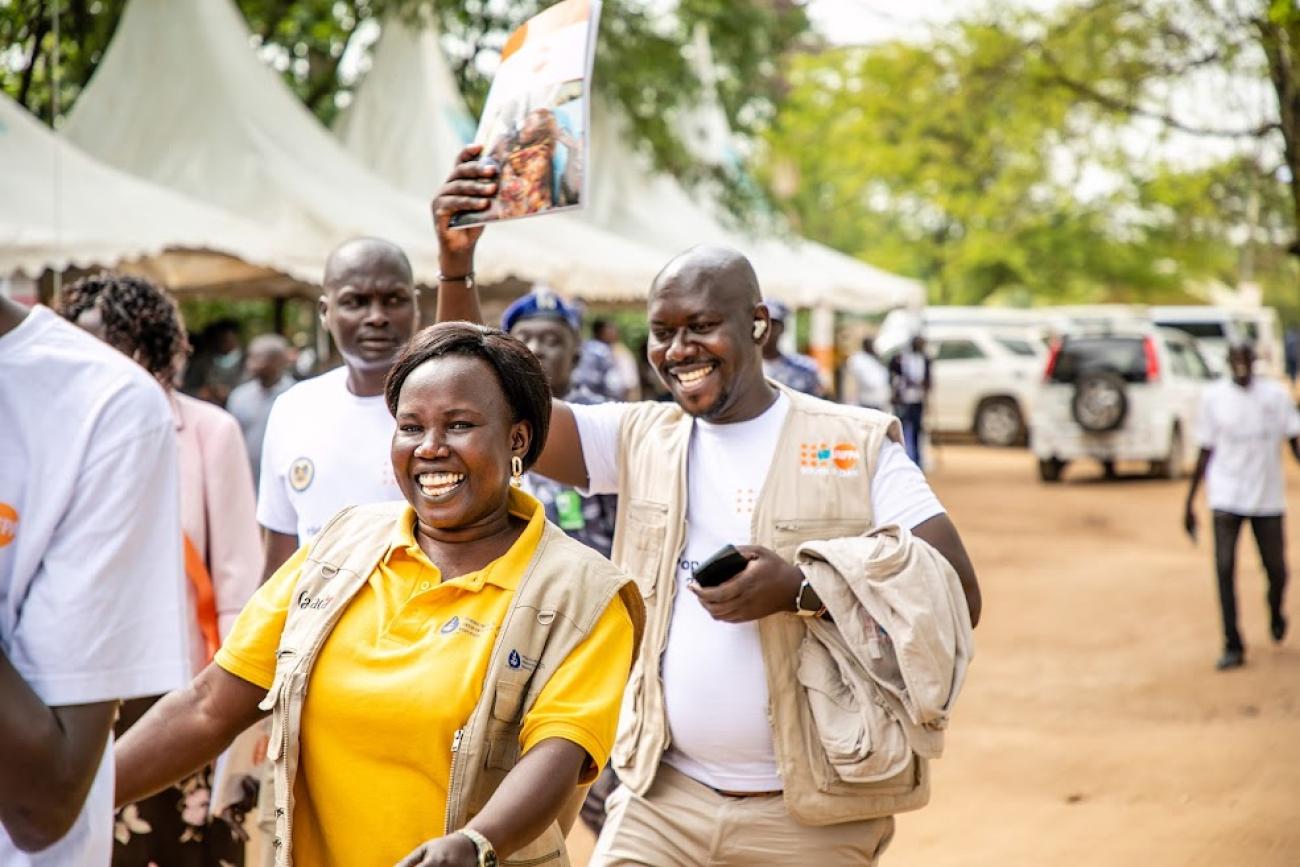 The State of the World Population Report noted that nearly half of all pregnancies worldwide, totaling about 121 million each year, are unintended.
On the 26th of July 2022,  UNFPA South Sudan in partnership with the Government of South Sudan and the support of several donors including USAID, the Governments of Sweden and Norway, launched the State of the World Population Report and commemorated the World Population Day 2022 under the theme "South Sudan in the World of 8 Billion: Towards a Resilient Future for All."
The commemoration event was graced by guest of honor, Honorable Dr. Albino Bol, Minister for Youth and Sports, and brought together key Government officials, donors, stakeholders and various partners, implementing sexual reproductive health programmes at the Nyakuron Cultural Centre. This event highlighted key messages from the 2022 State of the World Report, showcased and exhibited programmes and interventions geared towards achieving the three zeros (zero preventable maternal deaths, zero unmet need for family planning, zero gender-based violence and harmful practices such child marriage) and also raised awareness among youth, stakeholders, and surrounding communities on strategies to end unintended pregnancies.
Dr. Ademola Olajide, UNFPA Representative in South Sudan remarked that "a society that fails to guarantee rights and choices for women and girls, will fail to optimize the contribution of 50% of its human capital to sustainable national development".
The State of the World Population Report noted that nearly half of all pregnancies worldwide, totaling about 121 million each year, are unintended. Moreover, over 60 per cent of unintended pregnancies end in abortion, with an estimated 45 per cent of all abortions being unsafe, and accounting for between 5 and 13 per cent of all maternal deaths recorded. In addition, nearly a quarter of all women are unable to decline sex and make decisions about their own health. With the continued growth in global population, the absolute number of unintended pregnancies is expected to keep rising and the profound consequences of unintended pregnancies for women, girls, societies, and global health will continue to grow.
"Our population of 13 million people provides us an opportunity to enhance the well-being of the population through honest conversation and deliberately targeted policies to address choices and rights" said Honorable Dr. Albino Bol, Minister of Youth and Sports.
World Population Day is celebrated on the 11th of July annually, and offers a moment to celebrate human progress. The world, despite its challenges, is one where higher shares of people are educated and live healthier lives than at any previous point in history. It is important to keep this fact in mind when, in the next few months, the total number of people in the world will reach 8 billion. This milestone will attract much attention and debate, and likely scaremongering over "too many" people. That would be a mistake. Focusing only on population numbers and growth rates often leads to coercive and counterproductive measures and the erosion of human rights. It can deepen already acute inequalities, such as policies shutting down reproductive health care or denying adequate pensions for the elderly, further marginalizing those left behind.
"We cannot have a nation without population and a nation's population is linked to the national sustainable development agenda;  It is not about numbers but about quality of life of the people '' Hon. Majur, Chair Parliamentary Network on Population and Development remarked during the event.
The world is fast approaching 2030, the deadline for the Sustainable Development Goals and for UNFPA's own transformative goals — to end the unmet need for family planning, end preventable maternal deaths and end gender-based violence and harmful practices, including child marriage. UNFPA remains committed to transforming the lives of women and girls and reaching those furthest behind. Preventing unintended pregnancies is a nonnegotiable first step.
UN entities involved in this initiative
UNFPA
United Nations Population Fund