Story
From Youth Gangs to Ambassadors of Change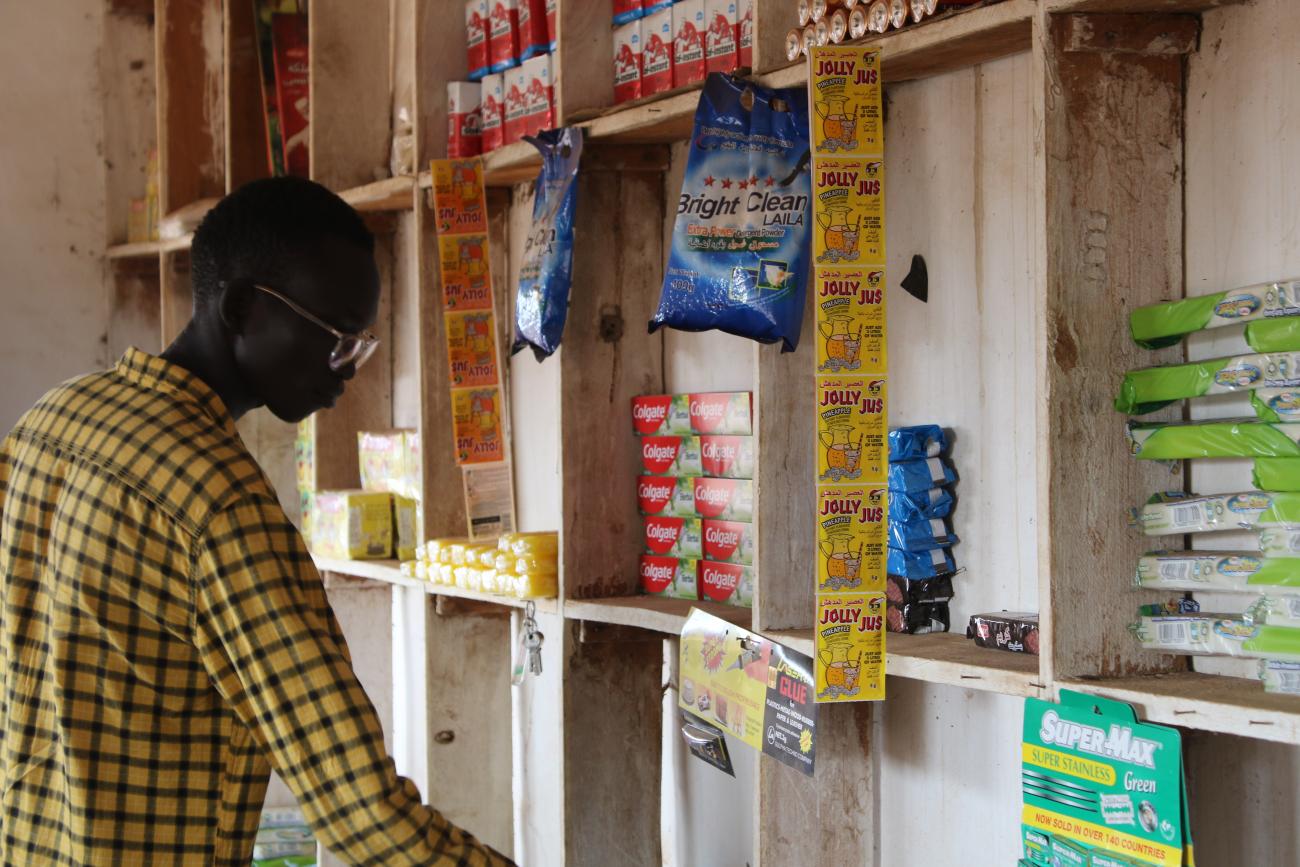 Transforming Young Lives in South Sudan
When Butrus Gaetano Joseph joined a gang group in 2018, he thought it was everything he needed.  He quickly rose in the ranks and took up responsibilities, earning him respect among his fellows.
Besides the colorful dress and endless parties envied by other young men, a lot was going on in his life. All his earnings went to buying designer clothes to keep up with his newfound lifestyle: and he was slowly losing his long-lived dream of becoming a health worker.
The 25-year-old lives in Wau town of South Sudan's Western Bahr El Ghazal State. Over the years, the town has witnessed violent activities of youth gang groups whom community members blame for rising crime levels including assault, theft, the spread of illegal drugs, and damage to private and public property.
Gaetano's group was involved in some of them.
After graduating from high school, Gaetano remained home for the next four years—doing all sorts of things to survive.
"I was motivated by the way my agemates lived. They dressed well and seemed well-off in terms of finances that is why I joined," recalls the 25-year-old.
"When I became one of them, I got to know some of the negative things. I participated in some of them because we had to survive and compete with other rival groups."
The young men's criminality and juvenile delinquency is one of the driving forces of insecurity and fear among residents of Wau town.
"We did certain things which were negative to the community, and I don't feel okay thinking about it," Mr. Gaetano says with remorse. He now refers to himself as a "former gangster."
Then came 2021 when everything changed for Mr. Gaetano. The International Organization for Migration (IOM), and the United Nations Educational, Scientific and Cultural Organization (UNESCO) in partnership with the Ministry of Culture, Youth and Sports, Ministry of Peacebuilding, and civil society partner organizations started a peace-building project in Wau.
Known as the Youth Action for Reduced Violence and Enhanced Social Cohesion in Wau, South Sudan, the project partners engaged the youth to facilitate a process of transformation of young people involved in violent and criminal youth gangs in Wau town.
It deployed mental and psychosocial support to help address emotional distress and strengthen youth's positive coping capabilities at individual, family, and community levels.
It also supported youth's positive social and economic engagement in their communities, as well as the transformation of community perceptions towards the youth, breaking stigmatization, and enhancing youth participation in decision-making processes.
It was timely for Mr. Gaetano who joined one of the trainings and in no time, his skills were identified. He became a facilitator, earning himself some money.
"I joined one of the capacity-building activities under the economic empowerment program and I did a course of tailoring and I manage to complete the course successfully. I was also a group facilitator which helped me a lot in terms of sponsoring my education."
He decided to chase his dream. Mr. Gaetano is now a first-year student at Wau Health Science Institute, studying clinical medicine and public health.
"I am very happy because this is one of my dreams to continue with my education after completing secondary school in 2018. I spent four years. I had dreams of joining school, but the process took a very long time. After all that I have gained, I am able to sponsor my own education," said Gaetano, with a wide smile.
Just like Gaetano, another young man is also reaping the seeds of transformation. 25-year-old Kur Maruop Ateng was a former member of a gang group in Wau.
His conversion started when he participated in transformational leadership training offered as part of the youth project.
"Before finishing the training, it became clear that whatever we were doing in the gang groups were wrong. It influenced my thinking and soon I became a facilitator," Mr. Maruop said.
He also took part in cash-for-work activities with fellow gang members as part of their economic empowerment. But the big change happened when they decided to transform their gang group into an economic empowerment group, supported by the project to start a retail business.
"We started our shop, and it is helping us and our families. This is better than the gang activities which caused harm to our communities," Mr. Maruop said, sitting inside one of the shops in Hai Kosti area of Wau town.
"Now we have changed from bad to good, which is a good thing."
The transformation shown by the young people in Wau has caught the eyes of authorities in Wau Municipality.
The Deputy Mayor for Lands of Wau Municipality, Ruwieda Rajab Sulieman believes the town has become safer—thanks to how some of the young people such as Maruop and Gaetano left their violent ways of life.
"Many of the gang activities have disappeared and insecurity has reduced because not many crimes such as rape and robbery are being reported," Her Worship Ruwieda says.
However, she remains cautious of the possibility of a resurgence of violent gang groups, if youth empowerment activities are not sustained.
"We need more engagement and activities to support the youth because they need economic empowerment. Without economic empowerment, we cannot realize the potential of the youth."
"And the gang groups could resurface if we let the young people down by not providing them with recreational activities, vocational skills training and employment."
The deputy Mayor's thoughts echo well with Hon. Mary Gabriel Tulba, the Director-General of the Ministry of Culture, Youth and Sports in Western Bahr EL Ghazal State.
She believes "the challenges we have is that these young people are unemployed and idle, that is why they are easily absorbed into these violent groups."
"There is a need for the UN, and NGOs to support the efforts of the government by engaging the youth so that they are empowered," she points out.
For the happy Gaetano who is now chasing his dream, impacting other young people's lives by talking them out of violent gang groups.
"Through your experience, you can transform yourself into somebody responsible. You can do something beneficial to the community and they will think of you as somebody positive in the community," he says, directing his message to the youth.
The Youth Action for Reduced Violence and Enhanced Social Cohesion in Wau, South Sudan was implemented by IOM and UNESCO as lead UN Agencies in partnership with civil society organizations and NGOs.
Funded by the United Nations Secretary General's Peacebuilding Fund, the project was part of efforts by the United Nations Country Team to empower women and youth under the United Nations Cooperation Framework through which UN Agencies, Funds, and Programs support the Government of South Sudan with its National Development Plan.
UN entities involved in this initiative
IOM
International Organization for Migration
UNESCO
United Nations Educational, Scientific and Cultural Organization